Postal workers in Bristol call for strike action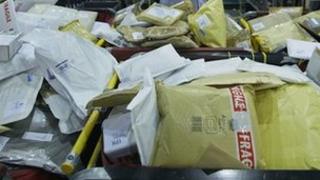 Postal workers in Bristol have asked to hold a ballot for strike action.
It comes as thousands of items of mail have been left undelivered at a Royal Mail sorting office since last Friday.
The Communication Workers Union (CWU) say cuts in staff and an increasing workload in the run-up to Christmas has left the sorting office in "chaos".
Royal Mail apologised for the delay and said it was due to high levels of sickness at the Mead Street sorting office, in Bedminster, last week.
Adrian Booth, from Royal Mail, said: "Contingency plans, including assistance from Royal Mail managers over the weekend, enabled the delivery of delayed items of mail to be carried out in the BS4 and BS14 postcode area of Bristol."
He added: "We are confident that all mail will be delivered by close of play today."
'Bullying from managers'
But David Wilshire, from the CWU, said managers were "continuing to ignore the fact that delivery rounds are too large."
The delays in post getting to the BS4 (Knowle) and BS14 (Hengrove) areas began last week.
Mr Wilshire said managers from Swindon had been drafted in by Royal Mail but this had caused more delays as they do not know the area.
He added that in the last year, seven jobs had been cut which had added to the pressure on workers to take on more deliveries. About 100 people work in the office.
"Postal workers at the site are complaining of alleged intimidation and bullying from managers who appear to have lost the ability to make rational decisions," he said.
"There's now a likelihood that there will be a strike in the run-up to Christmas."