Blacknore lighthouse in Portishead gets its lamp back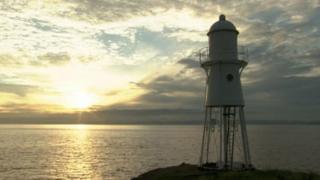 A lighthouse near Bristol which was saved from demolition is complete once again after its lamp was put back.
The community group which bought Blacknore lighthouse, near Portishead, has agreed a 10-year loan of the light.
It had been removed from inside the lighthouse by Trinity House, the group that has run lighthouses in England and Wales for the past 500 years.
Trinity House decided to close the lighthouse in 2010 because of modern satellite navigation systems.
GPS equipment on ships meant the lighthouse was deemed to be obsolete.
But local residents formed the Blacknore Lighthouse Trust and raised enough money to take over its running in January this year.
They were then keen to get the structure restored to its former glory.
Winched in pieces
Engineering historian Julia Elton said: "Lighthouse optics are the most extraordinary piece of human ingenuity.
"The whole idea about it is you take all the light... and you direct the light through the prisms so they come out intensely through the lens.
"If you put a 40-watt lightbulb behind it you can see the intense beam for 30 miles."
The trust agreed the loan with Trinity House, which retains the right to ask for the optic back should it have a service use for it.
Tony May, from the trust, said: "It feels like it's coming back to where it belongs."
The optic was disassembled, winched in pieces up to the top of the lighthouse and then reassembled.
Trinity House engineer Steve Rees said it was the first time he had ever had to put one back in.
The lamp was lit for a celebratory few hours on its return to the lighthouse, but must now remain in the dark.
Bill Shier, from the trust, said: "It would have to be a registered navigation light if we did turn it back on and then if a ship were to go aground because the light burnt out there would be a big liability involved."
He said taking over the running of the lighthouse had proved to be "quite an undertaking", with the trust already needing to raise thousands of pounds a year for maintenance and insurance.
The lighthouse was built in 1894 and is the only one of its kind left in the country.
The full story can be seen on Inside Out in the West of England on BBC One on Monday 5 November at 19:30 GMT.