Thousands of undelivered letters remain at Bristol depot, union claim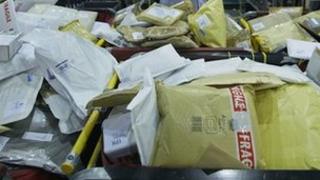 Thousands of items of mail including Mayoral candidate information are remaining undelivered at a Royal Mail depot in Bristol, a union has said.
Communication Workers Union (CWU) claim postal workers are "struggling to complete increased delivery rounds".
"This has resulted in stacks of mail remaining in the depot," a CWU spokesman said.
A Royal Mail spokeswoman apologised for any delays but said a contingency plan was being put in place at the weekend.
According to a union spokesman, postal workers delivering to the BS4 and BS14 postcode areas were told to "take whatever mail they had at 0930 and leave the rest".
'Contingency plan'
The result, according to the CWU, is packets that have remained in the depot for days and undelivered "literature about candidates standing in the Bristol Mayoral election" on 15 November.
David Wilshire, CWU branch official, said: "Aside from the impact this may have on the Mayoral election - our members at this workplace are receiving daily complaints from customers regarding the lateness of their postal deliveries.
"Bosses will not accept that the rounds are far too long and have adopted a panic-management approach to the problem."
A Royal Mail spokeswoman apologised for "any delay" in mail delivery in the BS4 and BS14 postcode areas but said it was caused "by high levels of sickness in the office this week".
"We are working very hard to ensure that all mail is delivered as soon as possible," she said.
"We are putting contingency plans in place this weekend so that we can provide the high level of service expected by customers."