Bristol mayor: Lib Dem's Jon Rogers releases manifesto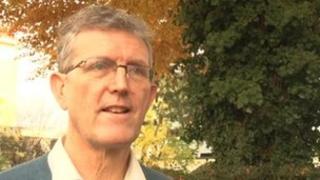 Creating more jobs and reducing unemployment in Bristol has been set as the top priority by Jon Rogers, the Liberal Democrat candidate for mayor.
Mr Rogers has pledged that, if elected, he would offer cuts to business rates for firms which train young people or launch in areas of high unemployment.
His manifesto also includes plans to set a flat bus fare rate of £1.50 and to freeze council tax for a third year.
Voters go to the polls on 15 November to elect a city mayor.
"It's a tragedy that so many people, especially young people, find themselves without work through no fault of their own," he said in his manifesto.
"I will judge the success or failure of my first term as mayor on whether I have helped to create more jobs in Bristol and cut unemployment among our young."
'Key areas'
Mr Rogers, who has recently retired after 30 years as a family doctor in Bristol, is also the current deputy leader of the city council.
He said his manifesto was not "a traditional politician's manifesto" and he had avoided making promises that could not be backed up financially.
"Instead, I've produced a four-part plan based around what I see as the key areas of working, moving, living and listening," he said.
That plan includes making a success of the Bus Rapid Transit scheme, asking private school's to share their "excellent sporting facilities" with state schools, and not resting until the city has an Arena and two new football stadiums.
Fourteen men and one woman are in the running to become Bristol's first directly-elected mayor.
Standing for election are: Tom Baldwin (Trade Unionists and Socialists Against Cuts), Tony Britt (Independent), Tim Collins (Independent), Dave Dobbs (The Birthday Party), George Ferguson (Bristol 1st), Rich Fisher (Independent), Stoney Garnett (Independent), Owain George (Independent), Geoff Gollop (Conservative), Neil Maggs (Respect), Spud Murphy (Independent), Philip Pover (Independent), Daniella Radice (Green), Marvin Rees (Labour) and Jon Rogers (Liberal Democrat)