Bristol mayor: Election candidates booklet posted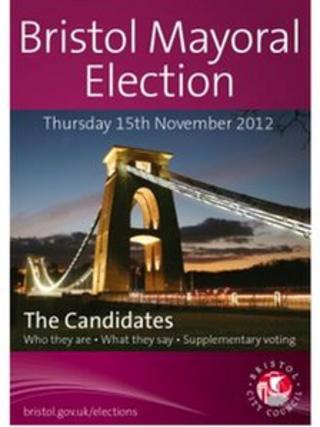 Booklets about the Bristol mayoral election are being delivered to some 340,000 registered voters in the city.
About £100,000 has been spent producing the booklet, which explains more about the new role and the supplementary voting system being used.
Fourteen of the 15 candidates running have also paid £750 to be featured in the booklet, which has begun arriving through voters' letterboxes.
The election of a mayor to run the city council will take place on 15 November.
He or she will have allocated to them all the cabinet functions and responsibilities of the authority.
Election helpline
One woman and 14 men are in the running for the new position in Bristol.
The candidates booklet can be viewed online and an election telephone helpline has also been set up - 0117 922 3400.
Independent Stoney Garnett is the only candidate to have chosen not to pay the £750 fee to appear in the booklet.
The council has raised £10,500 in fees from the other 14 candidates and will have to pay the remaining £89,500 itself.
Each booklet has cost approximately 29p to produce and deliver.
Bristol City Council had originally wanted to charge candidates up to £2,000 to appear in the booklet but it slashed the fee after heavy criticism.
Standing for election are: Tom Baldwin (Trade Unionists and Socialists Against Cuts), Tony Britt (Independent), Tim Collins (Independent), Dave Dobbs (The Birthday Party), George Ferguson (Bristol 1st), Rich Fisher (Independent), Stoney Garnett (Independent), Owain George (Independent), Geoff Gollop (Conservative), Neil Maggs (Respect), Spud Murphy (Independent), Philip Pover (Independent), Daniella Radice (Green), Marvin Rees (Labour) and Jon Rogers (Liberal Democrat)