Bristol mayor: Green candidate wants self-sufficient city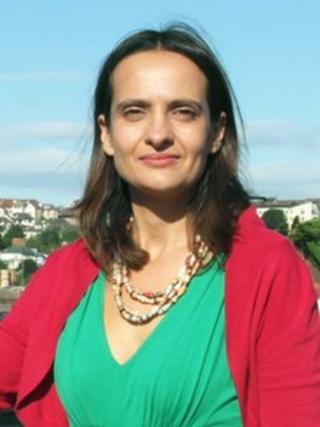 Making Bristol self-sufficient in renewable energy is "a realistic goal", says a prospective mayor candidate.
Green party candidate Daniella Radice believes it is achievable within two decades and has laid out her intentions in the party's manifesto .
She has said that solar, wind and heat energy alone could be used to generate all the city's electricity.
Some 13 candidates have signalled their intention to stand for the city's first directly-elected mayor on 15 November.
'Create jobs'
"Renewable energy self sufficiency for Bristol and the South West is a realistic goal," said Ms Radice, a former energy consultant.
"A push to harness solar, wind and heat energy on a micro and macro scale to generate all our electricity would create jobs for local engineers, technicians, architects, and keep millions of pounds in the community that would otherwise be spent importing energy."
The manifesto also includes plans to improve home insulation, invest in schemes such as ground-source heat pumps and anaerobic digesters and establish a national network to bulk-buy renewable energy.
Ms Radice, who has twice run for Bristol City Council for the Green party, also wants to get behind proposals for large-scale renewable energy projects at Avonmouth and in the Bristol Channel.
However the Green party opposes the idea of a tidal barrage.
Election candidates announced so far are: Craig Clarke (Independent), Tim Collins (Independent), George Ferguson (Bristol First), Owain George (Independent), Geoff Gollop (Conservative), Neil Maggs (Respect), Spud Murphy (Independent), Philip Pover (Independent), Daniella Radice (Green), Marvin Rees (Labour), Jon Rogers (Liberal Democrat), Andy Thorne (Independent) and Tom Baldwin (TUSC).