Back to Netball project 'saved' Bristol woman's life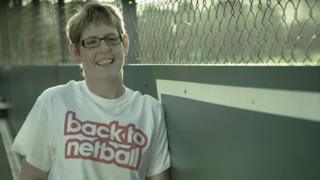 Debbie Peters credits netball with saving her life.
The 45-year-old from Bristol lost four stone after joining Back to Netball in 2011 and said losing weight helped her identify a lump in her breast.
The sports sessions have now been shortlisted in the final of the National Lottery Awards, which recognise the impact Lottery-funded projects make on local communities.
"I started to play netball in June," said Mrs Peters, a mother-of-four.
"I lost a lot of weight and, in the November, discovered a lump in my breast. It turned out to be breast cancer.
"The consultant said I was so lucky to have started the sport and lost the weight because I would never have found the lump so soon."
'Build myself up'
Mrs Peters also said netball had helped with her recovery.
"Because Sue's (the coach) netball sessions are for every single ability, I was able to go back to the sessions just three weeks after I had my operation and just join in and build myself up again," she said.
"It was lovely to have something nice to look forward to."
Since recovering, not only has Mrs Peters returned to netball but she now swims 10 miles a week and runs 26 miles.
Katy Ritchie, national development manager for Back to Netball, said: "Our sessions provide a big boost to the lives of participants, not only in Bristol but across the whole country.
"We have helped so many women lose weight, make new friends and lead healthier lifestyles."
She said the sessions could not happen without lottery funding.
Back to Netball was first piloted in January 2010 and was officially set up later the same year. It has received more than £1m in lottery funding.
More than 25,000 women have so far returned to netball through the project.
"We've got countless examples of ladies that have lost weight, ladies who have come off depression medication because it's helped to enhance their mood. It's just good for you," Ms Ritchie said.
Back to Netball provides a "gentle introduction" to the sport for female players over 16.
The winner of the National Lottery Awards sport category will be decided through a public ballot, with voting continuing until midnight on 28 October.
Winners will receive funding and be featured on BBC One later in the year.
The project is up against Longridge Activity Centre, in Marlow, and Wheels for Wellbeing, in Brixton.