Bristol City FC stadium row costs 'unacceptable'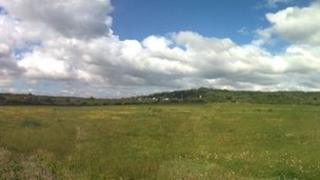 Costs of a legal battle over a 30,000-seater football stadium in Bristol have been described as "unacceptable".
Bristol City FC wants to build at Ashton Vale but some residents applied for the area to become a town green.
The town green inquiry, a subsequent judicial review and an attempt to mediate over the row cost Bristol City Council more than £234,000.
Graham Sims, the council's chief executive, said they were faced with "rising costs and legal stalemates".
"Clearly the costs to the local taxpayer of this long-running and tortuous legal wrangling over the Ashton Vale Town and Village Green application are unacceptable," Mr Sim added.
If the land was registered as a town green under planning legislation, it would block any future development at Ashton Vale - including the proposed stadium.
The figures were revealed following a Freedom of Information request by the BBC.
The original town green inquiry had recommended that Ashton Vale become a town green but the council went against this advice.
'No defence'
It registered part of the land as a town green but the area where the stadium would be built was not registered paving the way for it to be built.
This sparked a judicial review which the council eventually withdrew from saying it could offer no legal defence to its decision.
A second planning inquiry is due to take place in 2013.
Much of the money spent during the inquiry was on legal costs - including almost £35,000 hiring planning inspector Ross Crail.
The council also spent £28,658 on legal advice from several lawyers over the case.
Another big cost was for litigation with the lawyers for the residents opposing the stadium totalling £58,196.
Mediation costs between the two parties came to almost £57,000.
A member of the Save Ashton Vale Environment group claimed had the council accepted the original recommendation from the planning inspector the cost would have been £35,000.
"We agree the amount spent on attempting to avoid the correct decision is unacceptable," the group added.