Dutch experts assist with Bristol cyclist safety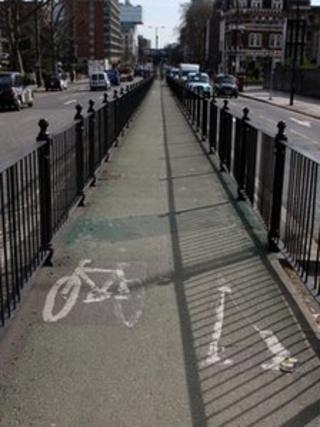 A contingent of Dutch cycling experts are visiting Bristol to assist in making the city safer for cyclists.
Although Bristol won £22m in 2008 and given Cycling City status, many feel the roads are too risky and some drivers jeopardise their safety.
A conference at the council house will hear how only 3% of journeys are made by bike in UK towns, compared with 40% in Holland.
It will also hear how many Dutch cycle routes are segregated from cars.
Dutch traffic engineer Vim Van der Wijk has looked at facilities available to cyclists in Bristol.
"The city needs to promote cycling and provide the infrastructure to make it better and more comfortable for cyclists," he said.
"When you have more people go by bicycle to the city centre there will be less people go by car so you need less space for cars - the money you save you can use for good cycle facilities."
'Mayoral commitment'
Michael McDonnell, of the Bristol Cycling Campaign, agrees separate routes for cyclist, pedestrians and drivers is a good idea and believes this could help reduce the amount of conflict between users.
The conference is being chaired by Malcolm Shepherd, chief executive of Bristol-based sustainable transport charity, Sustrans.
"We need to know from the Dutch how they achieve this high level of cycling - we know its from segregating cycle routes from pedestrians," he said.
"To get close to that figure here will take time and will need planning and will need great deal of commitment from a new elected mayor in Bristol.
"But it's all about design and there must be a willingness to give a greater priority to cyclists on our highways so it's a safer environment for everyone.