Bristol 'Bearpit' subway: Views sought for £1m revamp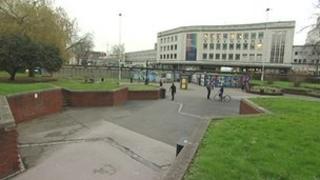 People are being invited to have their say on how a run-down pedestrian subway in Bristol should be redeveloped.
Bristol City Council has pledged £1m to improve the "Bearpit" at St James Barton Roundabout, which links Stokes Croft and Broadmead in the city centre.
The area, which was built after World War Two has long been blighted by crime and anti-social behaviour.
The three options being considered each propose raising the pedestrian walkway to street level.
The council is working with community organisation the Bearpit Improvement Group to decide which option will make the area safer for pedestrians, offer plenty of green space, play areas for children and store pitches for local traders.
Other plans include turning the space into a closed-off area and building an amphitheatre, which could be used for cultural events and leisure facilities.
People are asked to view the consultation options at the Bearpit Improvement Group website, and visit the Bearpit Survey website to give their opinions.
The consultation is due to run until 30 November, with construction planned for 2013.