Bristol dive company Subaquaholics fined after Jan Karon's death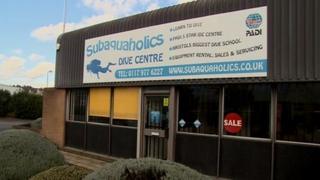 A Bristol company has been fined £10,000 after an inexperienced Bristol diver died following an organised dive off the Dorset coast in September 2008.
Jan Karon had a number of serious medical conditions and Subaquaholics was found guilty of significant failings in its duty of care to him.
The 54-year-old was taken to hospital by helicopter but died later.
Instructor and company director Ian Johnson was also fined £5,000 and had his training licence revoked.
'Very vulnerable '
Both Johnson, of School Road, Kingswood, and Bristol-based Subaquaholics, had previously pleaded guilty to breaching health and safety and diving regulations.
Speaking outside court Richard Martins, a diving specialist with the Health and Safety Executive (HSE) said student divers were very vulnerable members of the diving community.
He said: "Those who take money for tuition and guiding should ensure their students are fit to carry out what is a relatively high-risk strenuous activity."
Mr Martins added: "The individual [student] divers should be aware diving can be psychologically and physically strenuous.
"It's very important students are aware of their potential limitations."
'Multiple failures'
In a statement released after the case Mr Karon's widow, Shirley Karon, said her family had been devastated by the "needless tragedy".
She said: "The multiple failures revealed in this court case must send a message to those in the diver training industry that they have peoples' lives in their hands.
"Companies responsible for teaching people to dive must follow the regulations which are there for very good reasons. We do not want more people to die in avoidable circumstances."
The court was told Mr Karon, a HGV instructor, had got into difficulties while diving from the boat Shiraz off Weymouth on 19 September 2008.
The Portland Coastguard helicopter winched the diver on board and flew him to Dorset County Hospital where he was later pronounced dead.
During the rescue the winch on the coastguard's AW139 helicopter failed while he was being hoisted up, and he was lowered back down to a boat before being taken to hospital.
The malfunction did not contribute to his death, a spokesman for the Maritime and Coastguard Agency said.