Anti-corruption campaigner Liam Silcocks is Wiltshire PCC candidate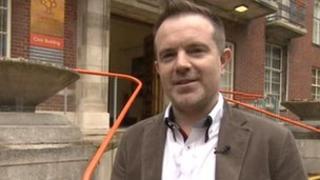 A man who has campaigned against police corruption is to stand as an Independent candidate for the Wiltshire police and crime commissioner role.
If elected, Liam Silcocks said he would set up an independent panel to review any historical complaints against the force.
He said he would suspend use of the LTi 20-20 speed gun by the force pending an investigation into its accuracy.
PCCs will replace police authorities in 41 areas after elections in November.
Mr Silcocks currently works in IT and telecoms and has previously worked for the Citizens Advice Bureau.
He said he wanted to make Wiltshire Police "more accountable, honest and ultimately respected".
Mr Silcocks said he believed the elected PCC should be a "transparent interface" between the police and the public, and said he thought Wiltshire could become the "blueprint" of all police forces in the future.
Angus Macpherson has been chosen as the Conservative candidate for the Wiltshire election, Clare Moody is standing for Labour and John Short for UKIP. Colin Skelton is another independent candidate. The Liberal Democrats have not currently chosen a candidate.