May Gurney admits losses over waste contract with Bristol City Council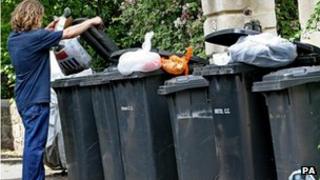 A firm which runs waste services in Bristol has admitted it has made losses from its contract with the city council.
May Gurney signed a seven-year £96m deal in November 2011 with the council but has been forced to spend more on staff and lorries to meet its workload.
Critics said complaints have increased and the firm is still failing to carry out some refuse collections.
The council said complaints have fallen and the service has improved.
Councillor Ron Stone (Lab) said: "What we've got is a patchy issue about the satisfaction across the city.
"It is certainly Bristol East for whatever reason that has experienced the worst end of the service - I can't speak for other parts of the city - but it's a continual daily and weekly problem here."
Loss making contracts
Bristol City Council has admitted complaints spiked to about 120 a month when May Gurney started but this has now fallen.
Last week 30 complaints were made to the council.
Earlier this year, the company announced it had made two loss-making contracts, one with Bristol City Council and the other in Chester.
The announcement resulted in a profits warning in September followed by four directors and the chief executive leaving the company.
Despite the firm's difficulties, Bristol City Council said it has not been approached by the firm to renegotiate its contract.
A spokesman said: "Plans are in place to address these issues and we will provide a fuller update at the year-end.
"These contracts represent 3% of historic revenues... [a year] and all of our other environmental services contracts are performing in line with expectations."
Bristol City Council also said it is confident the firm will continue delivering services and it has saved £2.5m with the May Gurney contract.