Southmead Hospital death baby: Parents 'not told others affected'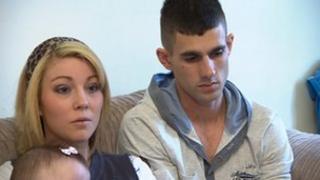 Parents of a baby that died following an outbreak of a water-borne bacterium have said they are angry they were not told the scale of the incident.
Oliver Hannon died in August after contracting Pseudomonas aeruginosa at Southmead Hospital in Bristol.
His parents said they were not told traces were found in the water system for the neonatal intensive care unit or that 12 other babies were treated.
North Bristol NHS Trust said it was happy to meet with them.
Coroner not informed
Baby Oliver died just two weeks after he was born prematurely.
His parents, Jenna and Andrew Hannon, from Tidworth, in Wiltshire, said they only knew the scale of the incident when they saw the report on Tuesday's BBC Points West.
Mrs Hannon said: "I'm pretty angry really we didn't find out about the water supply and other babies until last night.
"I just wish they had been more honest with us and I just don't understand what's going on really."
Mr Hannon said: "It's quite a shock to be honest. Obviously it's a struggle to get over what happened anyway without all this coming out that we weren't initially told about."
The hospital trust said they had communicated with the family a number of times in the two months since Oliver's death.
It said that if there were any outstanding questions it was more than happy to meet with the Hannons.
In a separate development it emerged that the Avon coroner was not told about the death by the hospital and found out about it through the Points West report.
Coroner Maria Voisin has now opened and adjourned an inquest into the death.
A spokesman for the trust said: "When there is a clear cause of death, it is not procedure to contact the coroner. If the coroner needs more information we will work with them to provide assistance."