Deep clean at Bristol's Southmead Hospital neonatal unit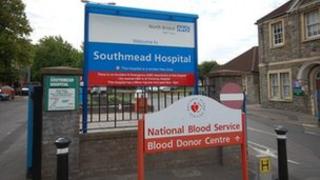 A hospital unit where a premature baby died and 12 others were treated following an outbreak of a water-borne bacterium has been deep cleaned.
Southmead Hospital in Bristol said it had found traces of Pseudomonas aeruginosa in the water system for its neonatal intensive care unit.
The hospital said the baby had died in August after contracting the bacterium.
A spokeswoman confirmed a number of deep cleans had taken place over the past few weeks at the unit.
She added this was part of a number of measures taken at the hospital in conjunction with the Health Protection Agency (HPA).
HPA spokesman Mark Evans said the bacterium was encountered in neonatal units, with some 240 cases reported a year in the South West.
"Because of the seriousness of the infection we along with the trust put in all the measures to minimise the risk to neo-nates within the unit.
"Neonatal units have strict infection control measures anyway but when pseudomonas occur when causing severe infections, there is extra enhanced measures that are put in place to assure this doesn't occur at other times.
"We have been working very closely with the North Bristol Trust to ensure all measures are put in place - as they were previously in Northern Ireland previously to minimise the risk for pseudomonas," Mr Evans added.
Three babies who continue to have the bacterium on their skin are being treated in isolation units.
Other infection control measures adopted by the trust include washing babies in sterile water, filtering tap water, enhanced cleaning regimes and more regular testing.
Four babies died after contracting the bug in hospitals in Northern Ireland in December and January.
It was also found at the Norfolk and Norwich University Hospital in March.