Keynsham regeneration: Demolition work begins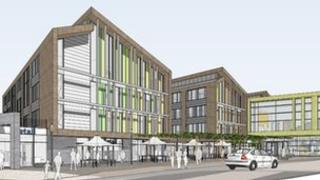 Demolition of Keynsham town hall has begun, marking the start of a planned £34m regeneration of the area.
The project will improve the existing library and town hall site, with new shops and council offices.
However Bath and North East Somerset Council is still awaiting approval of its planning application which is being considered by committee on 24 October.
Wilmott Dixon is carrying out the first stage of demolition work, which is expected to take the rest of the year.
Councillor David Bellotti, from the authority, said: "The project is now starting to move from being a plan on paper towards real buildings with real opportunities for local people and their community.
"Momentum is building all of the time towards creating a vastly improved town centre in Keynsham that will result in new jobs and new homes with greater private sector investment."
The council changed its original proposals for the design of the buildings following consultation with the community.
The main redesign was to the roof of the main buildings, changing them from a flat roof to a split pitch roof.
These changes have been agreed by Keynsham Town Council and are expected to be considered by the development control committee in two weeks.