Baby dies in Southmead Hospital pseudomonas outbreak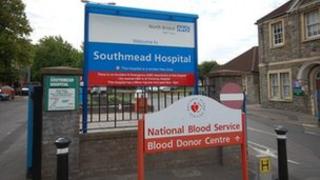 A premature baby died and 12 others were given treatment after an outbreak of a water-borne bacterium at a Bristol neonatal unit, it has been confirmed.
Southmead Hospital said it had found traces of pseudomonas aeruginosa in the water system for its neonatal intensive care unit.
The hospital said the baby died in August after contracting the bacterium.
Four babies died after contracting the bug in hospitals in Northern Ireland in December and January.
It was also found at the Norfolk and Norwich University Hospital in March.
Infection control reviewed
Filters have been fitted to the water system to make sure it is safe from the bacterium.
Dr Chris Burton, medical director of the North Bristol NHS Trust, said: "In August a premature baby sadly died in Southmead Hospital neonatal intensive care unit and pseudomonas infection contributed to the death.
"In light of experience in other neonatal ICUs where this has happened, North Bristol NHS Trust immediately put in place measures to review infection control procedures in the unit and minimise the risk to other babies."
Dr Burton said of the 12 babies found to have pseudomonas bacterium on their skin after the first case, one baby was given treatment for a minor infection.
He said the others "remain well" and eight have been discharged. Three who continue to have the bacterium on their skin remain in the unit and are being treated in isolation.
The trust said the bacterium only presented a risk if it entered the bloodstream.
"To minimise the risk to patients, strict infection control measures have been instituted for staff, parents and visitors," Dr Burton said.
"Babies are washed in sterile water and the tap water is being filtered to ensure that any pseudomonas bacteria is removed.
"Other measures that have been adopted include more regular testing and enhanced cleaning regimes."
Admissions to the unit have been reduced while the situation is being resolved, the hospital said. There are currently 30 babies in the unit, which can hold 33.