Bristol's bus 'rapid transit' plan challenged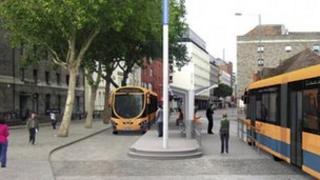 Plans for two "rapid transit" bus projects in Bristol have been challenged by opposition politicians.
The Liberal Democrat-led city council wants to operate the routes between Ashton Vale and Temple Meads and between Northern Fringe and Hengrove.
But Conservatives argue the cabinet decision to spend more than £4.5m on it was "premature".
The call-in means the decision has to be further discussed by the authority, possibly in November.
Conservative leader Peter Abraham and Councillor Geoff Gollop argue an elected mayor would have ultimate responsibility for the expenditure.
They said their call-in on part of the cabinet's decision was issued on the grounds of "a failure to properly consult and an obvious lack of clarity revealed in the decision-making process".
'Terrible compromise'
Deputy council leader Dr Jon Rogers described the Tory moves to "call in" plans for Bus Rapid Transit schemes for Bristol as "scandalous and irresponsible".
Dr Rogers said: "If, as is very possible, this call-in cannot be held until late November, at the earliest, that will load several hundred thousand pounds on to the cost of the BRT project - possibly, up to £1m."
Mr Gollop and Dr Rogers are both prospective candidates for the Bristol mayoral election on 15 November.
Another candidate, Labour's Marvin Rees, earlier released his manifesto and said it would be "naive" to give up on the scheme.
Whereas independent candidate George Ferguson has described the multimillion-pound project as a "terrible compromise" and said he would scrap it.