Bristol mayor candidate will give 'anti-austerity voice'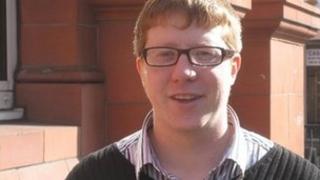 A Bristol mayor prospective candidate has been selected by the Trade Unionist and Socialist Coalition (TUSC).
Tom Baldwin has vowed to stand for the "ordinary people" of the city for the group which wants an "anti-austerity voice" in the 15 November election.
Mr Baldwin will appear on the ballot paper under Trade Unionists and Socialists Against Cuts.
Twelve candidates have now signalled their intention to be the city's first directly-elected mayor.
'Average wage'
Mr Baldwin said if elected, one of his first acts would be to reverse the closures of seven day care centres and eight care homes in the city.
He has also vowed to campaign against "attacks" on the NHS and to bring down ticket fares and safeguard jobs in public transport.
"The main parties all agree that cuts and privatisation are the medicine which millions of ordinary people must swallow in order to cure the bankers' recession. We disagree," said Mr Baldwin.
"The TUSC candidate will stand up implacably for the ordinary people of this city. Rather than taking the huge mayoral salary they will take only average wage of a worker in this city."
The Trade Unionist and Socialist Coalition stood 16 candidates in Bristol's last council elections, and in the Bristol South and Bristol East seats at the last general election.
Election candidates announced so far are: Craig Clarke (Independent), Tim Collins (Independent), George Ferguson (Independent), Geoff Gollop (Conservative), Neil Maggs (Respect), Spud Murphy (Independent), Eric Mutch (Independent), Daniella Radice (Green), Marvin Rees (Labour), Jon Rogers (Liberal Democrat), Andy Thorne (Independent) and Tom Baldwin (TUSC).