Arnos Vale Cemetery memories wanted for oral history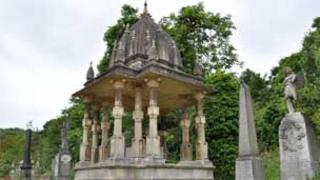 An oral history project has begun to collect memories and information from people involved in the campaign to save Arnos Vale Cemetery in Bristol.
When the cemetery came under threat of commercial development in 1987, volunteers formed The Friends of Arnos Vale to save it for future generations.
Once finished, the memories will be used as a record of the fight to save the cemetery.
It opened in 1839 and is home to 25 Grade II or Grade II* listed monuments.
The first person buried there was Mary Breillat, the wife of the man who brought gas street lighting to Bristol.
A £5m restoration project on the 45-acre site which included a new heritage, wildlife and education centre was completed in 2010.