Scientific buoy lost off coast near Weston-super-Mare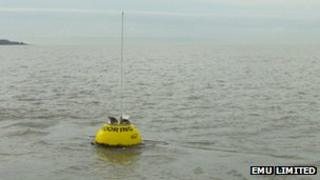 A £40,000 scientific buoy that collects and records data about waves has gone missing from its mooring off the coast near Weston-super-Mare.
Information collected by the buoy is used to aid coastal management and prevent coastal flooding.
The large yellow buoy is one of a number operated by the South West Coastal Monitoring Programme, led by Teignbridge District Council.
An appeal has been made for help to recover the equipment.
Data recorded by the buoy is also widely used by fishermen, recreational sailors, divers and surfers.
"It is really frustrating to think that someone could have deliberately cut the specialist mooring system," said Councillor Kevin Lake, from Teignbridge District Council.
"It is a valuable piece of equipment, which is not only vital in our understanding of coastal processes and flood defence risk assessments but is also used and trusted by the public and different groups around the Severn.
"The estuary has one of the largest tidal ranges in the world and this equipment helps us all understand some of the natural forces which affect life around this unique area."