Bristol mayor candidate Marvin Rees defends living wage plan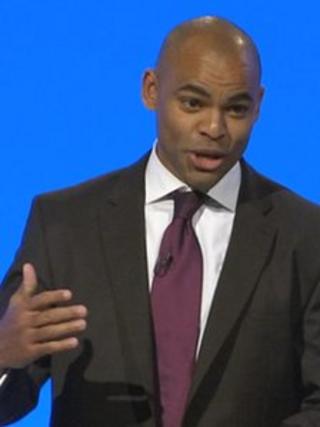 Labour's candidate to be Mayor of Bristol, Marvin Rees, has defended his aim of making it "a living wage" city.
During a speech, Mr Rees said his opponents "haven't got a clue" about the hardships faced by thousands of families and were "out of touch".
He was invited to speak at the Labour party conference in Manchester before introducing party leader Ed Miliband.
The party selected Mr Rees in June to be its candidate for the Bristol mayoral election.
In Manchester, he said: "My opponents have attacked me for saying I want a living wage for Bristol. It says more about them than it does about the living wage.
"They haven't got a clue about the hardships faced by thousands of families.
"They are out of touch with the people living on my street. They don't speak for them. We will."
He added that he also wants to fight plans for regional pay in the NHS, stand up to police cuts and increase apprenticeships and flexible childcare.
Mr Rees then introduced Mr Miliband saying he "has to be the next prime minister" and people in Bristol "need Ed in Number 10".
The party leader then took to the stage and said "let's hear it for the fantastic Marvin Rees who is going to be a great mayor of Bristol".
The election for a directly-elected mayor to run the city council will take place on 15 November.
Election candidates announced so far are: Craig Clarke (Independent), Tim Collins (Independent), George Ferguson (Independent), Geoff Gollop (Conservative), Neil Maggs (Respect), Spud Murphy (Independent), Eric Mutch (Independent), Daniella Radice (Green), Marvin Rees (Labour), Jon Rogers (Liberal Democrat) and Andy Thorne (Independent).