'Lives risked' at roadworks near Bristol by speeding motorists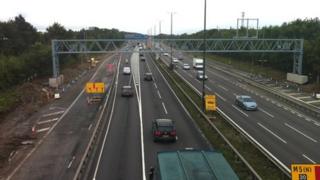 Motorists driving at speeds of up to 137mph through roadworks on two motorways near Bristol are "risking lives", a charity has said.
Work to open up the hard shoulder to traffic is taking place on the M4 and M5 near the Almondsbury Interchange.
A BBC Freedom of Information request revealed some drivers were ignoring a 50mph variable speed limit.
A Royal Society for the Prevention of Accidents spokesman said the "excessive speeding" was "ludicrous".
"Such drivers are not only risking their own their lives, they are risking the lives of other road users and the people who work in the road," the spokesman added.
A Highways Agency spokesman said safety was its "top priority".
"Road workers work in a dangerous environment, only feet away from moving traffic, and deserve respect and consideration from drivers," he said.
"Driving through a mile of road works at 40mph takes less than 40 seconds longer than it does at 70mph but that difference can save lives."
'Fines backlog'
Between April and September, some 14,000 motorists were caught speeding by the average speed limit cameras - one driver was clocked doing 137mph.
The figures also revealed more than £168,000 has been paid in speeding fines, and that this figure was set to increase.
Avon and Somerset Police said it was still dealing with a backlog of cases from the speed cameras.
"Not all drivers may have been identified or...court processes are still in progress if drivers have elected a court hearing rather than accept a fixed penalty notice or attend a speed education course," a force spokesman said.
More than 2,500 motorists have elected to go on a speed awareness course in lieu of fixed penalty notice of £60.
Average speed cameras record vehicle speeds by registering the time a car, lorry or motorbike takes to cover a fixed distance from which the speed can be calculated.
The system uses number plate recognition cameras to identify individual vehicles.