Levi Brailsford car fall death 'could have been prevented'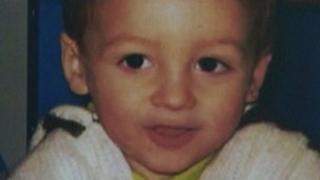 The death of a toddler who fell from a moving car in Bristol could have been prevented if child safety locks had been used, a coroner has heard.
Levi Brailsford, two, died from serious head injuries after falling from the car his grandmother was driving.
The inquest was told how the boy was able to unbuckle himself from his seat and crawl over to the unlocked door of the car which he knew how to open.
Flax Bourton Coroners Court has recorded a verdict of accidental death.
Avon coroner, Maria Voisin, heard the child locks were only active on one side of the car as normally someone sat beside him.
'Strapped in'
The accident happened on 11 May 2012.
Levi's grandmother, Karen Medway, stopped her car after spotting her daughter, Andrea Brailsford, with Levi.
They were on their way to pick up Levi's older brother from school, when she offered to take Levi home.
Mrs Medway told the court she was certain she had strapped her grandson in properly before starting the car.
But within a space of three to four minutes Levi had unbuckled his belt, crawled across the seats and opened the back door on the driver's side, the inquest heard.
Since his death his parents Kevin and Andrea Brailsford have called to make the use of car child locks compulsory.