Escaped eagle found by walkers next near Bristol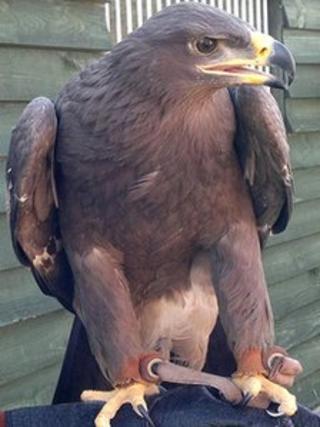 An eagle with a 5ft (1.5m) wing span that went missing from fields close to the M4 near Bristol has been found.
Joey, a six-month-old Steppe eagle, was found near Hambrook on Sunday afternoon after a three-day disappearance.
Owner Wendy Barke said she was contacted by the RSPCA, after walkers reported being followed by a squawking eagle while out walking their dog.
She said: "We're over the moon to get him back, he's a bit craggy and a bit hungry but other than that he's fine."
The young Russian Steppe eagle, which weighs about 2.75kg (6lb), flew off during a training session in Winterbourne on Thursday.
It was found over 3km (2 miles) away, on the other side of the M4, at about 14:00 BST on Sunday.
"He was found by two girls hopping along a field, squawking," said Ms Barke.
"One of the girls ran back to the house and got some meat and called the RSPCA - and he stayed with them until my son got there.
"He hadn't flown far - he'd probably flown round in a great big circle - but we're absolutely thrilled to get him back unhurt."