Passengers ride freight line from Bristol-to-Portbury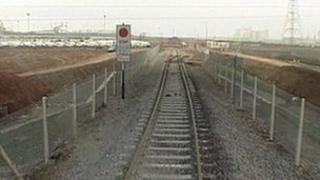 Campaigners hoping for the re-opening of a passenger rail route between Portishead and Bristol have been travelling on the line.
As part of the First Great Western community rail festival, passenger trains are being run on a section of the route - currently used for freight.
More than 500 people are expected to make the journey from Temple Meads.
But railway operator First Great Western says it does not mean the route will be fully re-opened.
'Can be done'
"This is more a question for the new franchise and the bidding process for that is ongoing," a spokesman said.
"We've been working with Bristol City Council and other rail groups in the area to work out what that service might look like.
"[Today] we're giving them the experience of what route the proposed Bristol Metro will actually take towards Portbury Docks."
Alan Matthews, from the Portishead Railway Group which is campaigning for the line to be open to passengers, said any reopening could be at least three years away.
"It shows it can be done and things are moving forward now," he said.
"But at least First Great Western is showing the line can be opened."
The Portbury line was reopened in December 2001, when the then Transport Minister John Speller joined 150 people on a steam train journey through the Avon Gorge from Bristol's Parson Street station to Royal Portbury Dock.
Since early 2002 the route has been used by freight services.
It has long been the subject of a campaign for re-opening to passenger traffic to ease congestion on the A369 - one of the main commuter routes Bristol from the west.