Eagle goes missing from fields close to M4 near Bristol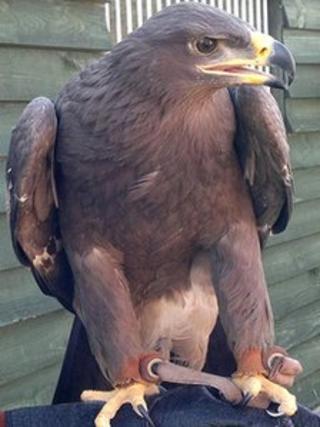 An eagle with a 5ft (1.5m) wing span has gone missing from fields close to the M4 near Bristol.
Joey, a six-month-old Steppe eagle, was startled and flew off during a training session in Winterbourne on Thursday.
Owner Wendy Barke said she was worried as the bird of prey would not "survive longer than three or four days in the wild".
She said: "He hasn't learnt how to hunt and doesn't know about traffic - we're worried he's going to be injured."
The young Russian Steppe eagle is about 60cm (24 inches) tall and weighs about 2.75kg (6lb).
It was last seen flying in the direction of Iron Acton, Yate and Frampton Cotterell and is not, according to Ms Barke, dangerous.
"He's very big - if somebody was to look at him in the sky they would probably think it was a very big buzzard," she said.
"But he isn't scared of humans or animals and wouldn't know to go up into a tree.
"So he'll probably be found sitting in the middle of a field or in the middle of someone's lawn - calling very loudly."