Bristol mayor candidate pledges to scrap city bus plan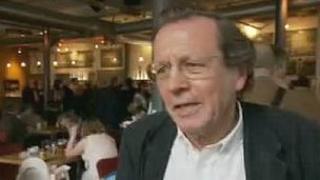 A Bristol mayoral candidate has pledged to scrap a multi-million pound bus transport project.
Independent candidate George Ferguson has described the bus rapid transit scheme as a "terrible compromise".
Mr Ferguson said: "We should be spending our money on building a proper integrated transport system that looks at improving rail and we should look at small self-driving trams as an option."
The £200m scheme involves bus-only routes and co-ordinated traffic lights.
Arena aims
Mr Ferguson has also urged the city council to postpone any further spending until the Bristol mayoral elections are held.
He has also committed to revoke Sunday parking charges and to apply for world heritage status for Clifton Suspension Bridge.
Another pledge in his election "vision" is to bring an arena to the Temple Meads area of the city.
He said: "I've discussed it with previous cabinet members and financiers and it can be done.
"My aim would be to have one well under way by the end of my first term, but to say that it can definitely be delivered within three and a half years would be rash.
"My promise is that it will be advanced and that it will eventually come, Bristol is a lesser city for not having one."
Mr Ferguson has also pledged to "put Bristol first" rather than have any allegiance to any political party.
In May, Bristol voted in favour of having a directly-elected mayor to run the city council. The election will take place on 15 November.
Election candidates announced so far are: Craig Clarke (Independent), Tim Collins (Independent), George Ferguson (Independent), Geoff Gollop (Conservative), Neil Maggs (Respect), Spud Murphy (Independent), Eric Mutch (Independent), Daniella Radice (Green), Marvin Rees (Labour), Jon Rogers (Liberal Democrat) and Andy Thorne (Independent).