Bristol Pound prompts Nick Hand to find 'hidden' parts of city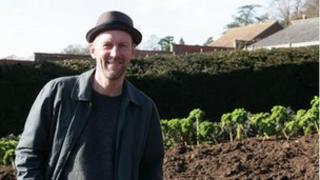 A man who decided to try spending only Bristol Pounds for an entire week says the challenge has helped him discover new areas of the city.
The Bristol Pound was launched in a blaze of publicity on 19 September as a way of keeping money in the city and supporting the local economy.
Nick Hand, a 55-year-old graphic designer and photographer from Redland, has been chronicling his experiences as a customer at businesses like the Better Food Company in Clifton, and the White Bear in Kingsdown on Twitter.
But the biggest change for Mr Hand has been the discovery of cafes and shops in areas he does not usually go to.
"I looked at the Bristol Pound map and found places I've not been to before and took off on my bike to visit them," he said.
"I've been to cafes like Poco on Stokes Croft and in South Bristol I found [independent artisan baker] Mark's Bread.
"I bought bread and a cake and it was great as I don't usually go south of the river."
He also headed along the Gloucester Road, where The Gallimaufry was a place he "felt like he belonged". The venue also changes Sterling into Bristol Pounds to encourage their use.
"I was thinking when I started it would be like going on a diet but it hasn't been like that at all," he said.
Londoner 'proud'
The project also took him to the Tobacco Factory in Southville and to see a man who sells bicycles in Yate who accepts the currency.
"The bike shop guy, Rob, was interesting," he said. "He'd moved from London and got into the big cycling scene here.
"It was great to hear a Londoner say he was proud to be part of the city doing the pound."
Mr Hand planned to spend only Bristol Pounds for a week but he has enjoyed the experience so much he might carry on.
"I've spent less money this week - maybe I've been a bit more careful - having pound notes in your hand helps you keep on top of things," he said.
There have been a few issues to contend with though, with the likes of newspapers and bus journeys being unobtainable using the currency.
Ciaran Mundy, director of the Bristol Pound, said 300 businesses had originally signed up, but now this total has risen to 400.
He said £125,000 worth of the notes had been printed, with thousands already thought to be circulating in the local economy.
"We had a fantastic response from the launch," Mr Mundy said.
"The main thing is trying to get the people here in Bristol to see what it's all about and try it out."
But not all organisations have been keen to sign up, including the Oxfam shop on Cotham Hill, where a sign in the window indicates the pound is not accepted.
Local charity St Peter's Hospice is not accepting the currency either.
Oxfam said it needs to move money around the UK and beyond, which is not possible with the Bristol Pound.
Mr Mundy said he would be willing to talk to Oxfam to see if there is a way they could use the currency in the future, and he hopes to work closely with local charities.