'Cursed' saddle used by Queen Elizabeth I sold for £19,000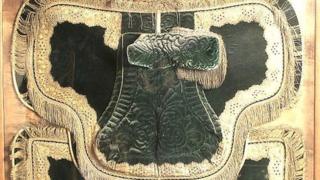 A saddlecloth reputedly used by Queen Elizabeth I during a state visit to Bristol in 1574 has sold for £19,000.
The emerald green saddlecloth is believed to have been used by the Virgin Queen in a procession through the city more than 400 years ago.
Elaborately decorated with gold lace and fringe, the heirloom - said to be cursed - has been in the Kington family for generations.
Expected to fetch £10,000, it was sold for almost double its estimate.
The lot was sold by Newbury auctioneers, Dreweatts, earlier.
The saddlecloth is thought to have been used by Queen Elizabeth I to ride in a procession through the cobbled streets of Bristol during a three-day visit to the city.
Mounted in a glass case, the Elizabethan Royal artefact bears a plaque which states: "Queen Elizabeth's Saddle, on which she rode on her State visit to Bristol 1574. Afterwards presented to a member of the Kington family."
'Kington saddle curse'
Kept in the Kington family for generations, it was until recently owned by the late writer Miles Kington - who wrote for the Independent, The Times and Punch.
Shortly before his death Kington joked that the saddle was cursed, in a fax to his wife Caroline.
In it, he said: "I sometimes worry that I may pass on to the other side before I have handed down to you the secret of the Kington Saddle.
"But it's just a silly old priceless family heirloom sitting in an old glass case, I hear you laugh. There's nothing secret about it at all.... Ah, would that it were so."
'Difficult to value'
Concerned about the preservation of the "old priceless family heirloom", Caroline Kington decided to sell the Kington Saddle at auction.
The lot, which included the fax from Miles Kington, was sold to a private buyer for £19,000 at auction earlier.
Malcolm Claridge, military specialist at Dreweatts, said: "It's unique, there's nothing to compare it to so it was very difficult to value.
"'But it is in extremely good condition considering it is 438 years old."