Cribbs Causeway Mall expansion consultation held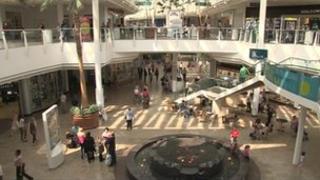 A public consultation is to be held by South Gloucestershire Council about expanding The Mall at Cribbs Causeway.
The issue was included in the council's draft blueprint for growth and was reviewed by the planning inspector.
But reviewing the blueprint, the inspector said the current plans were "premature" and more proof was needed to justify the 35,000 sq m expansion.
The council is set to start a six-week public consultation over the plans outlined in its blueprint for growth.
A spokesman for The Mall at Cribbs Causeway said they were "disappointed" by the inspector's findings.
'Long term future'
But other councils in the region, such as Bristol City, Bath and North East Somerset and North Somerset, have expressed concerns about the planned expansion.
They believe increasing the number of shops at the Mall would threaten trade in local town centres.
No formal planning application has been submitted by the firm.
The Mall spokesman said the extension would "safeguard the long term future" of the centre, creating new jobs and bringing in new investment.
"We have always considered there to be both public support and demand for a managed expansion of The Mall at Cribbs Causeway," the spokesman said.
The council's consultation is due to begin at start of October, although no exact date has yet been set.