Rare Socorro dove hatches at Bristol Zoo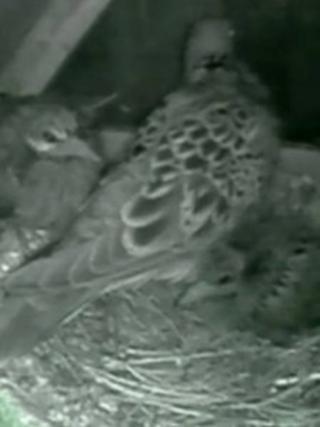 One of the rarest birds in the world has been bred at Bristol Zoo.
The Socorro dove, which originates from Socorro Island off Mexico, died out in the wild in the 1970s as a result of human disturbance and habitat loss.
The latest arrival was one of two birds to hatch, but one did not survive. It is the first time the doves have bred successfully at the zoo in five years.
There are 100 Socorro doves in captivity around the world, including 25 birds in six UK zoos.
Bristol Zoo's curator of birds, Nigel Simpson, said: "Sadly these birds now only exist in captivity, so to have this chick hatch and survive 40 years after they were last seen in the wild is a great achievement."
The chick has been raised by "foster birds", a pair of European turtle doves, as adult Socorro doves have a poor history of incubating eggs.
"The foster birds have done a fantastic job of raising this very important chick," Mr Simpson added.
"We are thrilled to say that another pair of foster birds is now incubating another Socorro dove egg which we hope will hatch soon."
The chick is now fully fledged and can be seen in one of the aviaries near the zoo's education centre.
Socorro Island, some 600km off the west Mexican coast, was discovered by Spanish explorers in the 16th Century.