Bristol Mayor candidate George Ferguson in Irish gaffe apology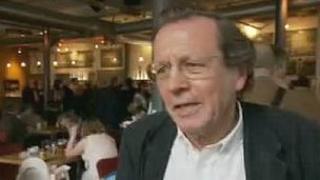 A Bristol mayoral candidate who suggested some ways of developing the city may be "too Irish" has apologised for causing offence.
George Ferguson, an Independent, made the comment at a hustings meeting.
Mr Ferguson said Bristol had "an innovative approach" to improvement that also learns "from the best places" adding "if that isn't too Irish".
Jenny McShannon, from the Federation of Irish Societies, said architect Mr Ferguson needed to be "more careful".
'Slip out'
She added that Mr Ferguson should be aware of the "very long" and "very difficult history" between The Irish Republic and Great Britain.
"I think there is a little bit of 'oh this is politically motivated' but actually this undermines the fact that people do take offence," she said.
"The Irish, we do have a good sense of humour, but for hundreds of years we were portrayed as the thick Paddy and that still occurs for people.
"Whilst you might think this is light-hearted you are aiming to be in a position of influence and you need to just think about the impact of that."
Mr Ferguson was born in Winchester, Hampshire. He has lived in Bristol for many years and also describes himself as part-Scottish.
He said of his comment, made on Wednesday: "In no way was I meaning to be offensive and it's a term that's slipped into the English language. It should slip out of it.
MP 'unimpressed'
"What I think we have here is false indignation from people who are politically motivated."
Local Labour MP Kerry McCarthy said she was "unimpressed" by Mr Ferguson's comments.
In May, Bristol voted in favour of having a directly-elected mayor to run the city council. The election will take place on 15 November.
Election candidates announced so far are: Craig Clarke (Independent), Tim Collins (Independent), George Ferguson (Independent), Geoff Gollop (Conservative), Neil Maggs (Respect), Spud Murphy (Independent), Eric Mutch (Independent), Daniella Radice (Green), Marvin Rees (Labour), Jon Rogers (Liberal Democrat) and Andy Thorne (Independent).