Shrien Dewani's mental health 'has improved'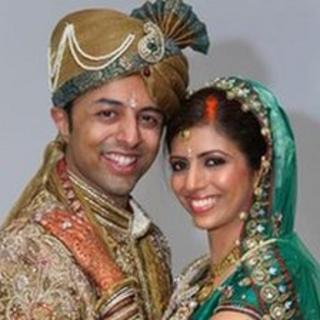 A man accused of the honeymoon murder of his wife is to apply to be treated on an open rehabilitation ward after an improvement in his mental health.
Shrien Dewani, 32, of Bristol, has been diagnosed with severe post-traumatic stress disorder and depression.
Dr Paul Cantrell, the psychiatrist treating him, told Westminster Magistrates' Court he wants to see a relaxation in his bail conditions.
Mr Dewani denies ordering the murder of wife Anni in South Africa in 2010.
He is currently being held at Fromeside Clinic, a secure mental health hospital in Bristol, where he is subject to a curfew and must be accompanied by staff when he leaves.
'Prime suspect'
The hearing was told that a report by a psychiatrist employed by the South African authorities on Mr Dewani's mental health had not yet been completed.
The report was requested after an earlier hearing at which Clare Montgomery QC told the court that Mr Dewani needed 12 months to recover from depression and post-traumatic stress disorder before being able to deal with the extradition process.
Speaking outside the court, Mrs Dewani's father Vinod Hindocha said the protracted court sequence was "torturing us every day".
"I am here again today with still no real hope of me knowing the full story of why Anni was murdered," he said.
Mr Hindocha questioned why Mr Dewani had not been handed over to the South African authorities.
"The UK police have arrested him and the South African police want him back as a prime suspect, yet still he remains here. Why? I ask how long can post-traumatic stress last?
"As far as I'm concerned the South Africans have proved to me that they will treat him fairly and put the case against him properly.
'Fake carjacking'
"It's now time for the British judges to take the decision to send him back immediately and allow me as a grieving father and my family to be told all the facts. We have a right to that."
Mrs Dewani, 28, from Sweden, was shot when a taxi in which the couple were travelling was hijacked in Cape Town's Gugulethu township during their honeymoon.
Taxi driver Zola Tongo, from Bothasig, Cape Town, has been jailed for 18 years for murder, kidnapping, robbery with aggravating circumstances and perverting the course of justice.
He has claimed he was hired by Mr Dewani to arrange his wife's execution during a fake carjacking.
South African Mziwamadoda Qwabe has been sentenced to 25 years in prison after pleading guilty to kidnapping, robbery, murder and illegal possession of a firearm.
Mr Dewani's case was adjourned for a further hearing on 2 October. An application to vary his bail conditions could be heard on 12 October.