Avon Fire and Rescue Service brings in six new engines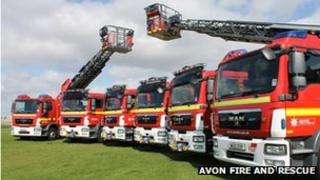 Avon Fire and Rescue has brought into service six new fire engines at a cost of £2.4m.
The service's decision to replace some of the vehicles was approved two years ago by the Avon Fire Authority.
Chief Fire Officer Kevin Pearson said: "They're lighter, shorter and more compact which makes them easier to manoeuvre and have better capability."
The new appliances will be based at Bath and Weston-super-Mare, Temple and Avonmouth.
Two of the engines cost £500,000 each and are the first of their kind in the UK, Avon Fire and Rescue said.
Some of the new features of these two engines include an on-board stretcher, on-board generator and a 27m ladder.
The other engines, which each cost just under £340,000, have specialist equipment for road traffic accidents in addition to the standard fire engine equipment.
The fire service said the new engines will mean fewer staff need to be deployed because of the improved capability.