Bristol Children's Hospital to 'learn' from incidents of 'poor care'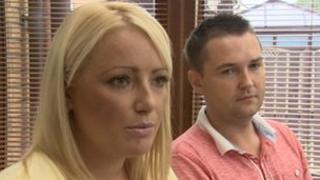 Bristol Children's Hospital has defended its record after a series of complaints over care of child cardiac patients.
It follows the publication of a report earlier this week which partly blamed staff shortages on the death of a seven-year-old boy.
The parents of other children who were treated there have said they also received poor care.
A spokesman said the hospital would "learn" from the incidents.
The report, published on Monday, said Luke Jenkins, seven, of Cardiff, had been expected to make a recovery after heart surgery at Bristol Children's Hospital. But he suffered cardiac arrest and died, partly due to staff shortages, the report found.
After its publication parents of other children contacted the BBC to say they had also received poor care at the hospital.
Tiffany White, from Gloucester, said there were poor hygiene standards at the hospital shortly before her son Oscar Wilcox died from a complex cardiac condition.
'Laying in his own vomit'
Ms White said: "He'd be sick all over himself. There were many occasions when he'd be laying in his own sick and crying.
"I wondered why no-one would come in and help him."
The parents of three-year-old Jack Casey from Bridgend said the lining of his lungs was accidentally punctured as he was having fluid drained from his chest when he was seven months old.
His mother, Rachael Puaca, also said hygiene was poor, and she found him lying "in a dirty nappy, laying in his own vomit with no nurse by him" when he was in an intensive care unit.
"If my son ever needs any heart surgery he will never go to Bristol Children's Hospital again," said Ms Puaca. "The surgeon was fantastic, the consultant was fantastic but the whole aftercare was just not acceptable."
A spokesman said it could not comment on Jack Casey's case because of the threat of possible legal action.
Dr Sean O'Kelly, medical director of University Hospitals Bristol NHS Foundation Trust, said: "I'm profoundly disappointed and upset to hear these stories of poor care from patients and their families.
"We always strive to provide the highest standards of care and it's disappointing when we don't, so we will learn from this."