Bristol renovation project gets ex-offenders into work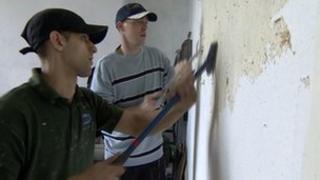 A Bristol-based project to get ex-offenders and long-term unemployed people back into work by renovating empty homes is under way.
Bristol Together, which launched in 2011, has secured funding to buy 40 derelict houses and will offer on-the-job training to repair them.
Once refurbished the homes will be sold and the proceeds reinvested in the scheme.
The social enterprise project aims to help 200 people over five years.
Omar is a former offender working on one of four houses currently being renovated.
"It's brilliant. It's so nice to have somewhere to go to work," he said.
Chris, another former offender, said the project was helping to keep him out of trouble.
"It's teaching me new things and refreshing what I already know and it's getting me back on my feet so I have more of a chance," he said.
"It's great for anybody to have that structure of work," said project manager Malcolm Bourne.
"You come here and do your work and get that nine-to-five mentality and that's key for a lot of things."
Since its launch the scheme has attracted interest from projects in Manchester, Leicester and Birmingham.