Noah's Ark Zoo Farm elephant 'sanctuary' work begins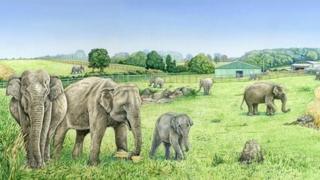 Building work is under way on a 20-acre 'elephant sanctuary' which is to be one of the largest exhibits in Europe.
Noah's Ark Zoo Farm, in North Somerset, is spending £1m on the enclosure which it plans to open next year.
A number of animal welfare groups have expressed concern over elephants being kept in captivity since planning permission was granted in 2010.
Up to ten elephants could one day live in the enclosure, which the zoo claims will offer them "welfare improvements".
Zoo owner Anthony Bush said it was a "significant step forward" in the care of elephants in captivity.
He said: "Elephants are the largest land mammals, and we want to create a destination of paradise for these important creatures."
The RSPCA said it was "extremely concerned" about the plans and had urged the zoo to drop them.
'Highly irresponsible'
Andrew Kelly, head of wildlife, said: "It is clear elephants do not fare well in zoos and we believe it would be highly irresponsible to introduce yet more of the animals to such a damaging environment."
"Studies have even shown that the levels of lameness suffered by elephants in captivity are on a par to those seen in intensively farmed dairy cattle or broiler chickens."
The Born Free Foundation, the Captive Animal Protection Society and Animal Defenders International have also previously expressed their concern.
The zoo has said the enclosure is designed "to offer welfare-improvements to elephants already living in captivity".
It could possibly attract elephants with behavioural issues and rescue animals.
Plans include a 1,120 square metre heated elephant house as well as woodland, mud wallows, crops for strip-grazing and a deep bathing pool.
North Somerset Council, which licenses the zoo, granted planning permission in 2010 for the enclosure to be built on the zoo's land.
The exhibit is expected to open at Easter next year.