Dursley speed camera catches 'half' of speeding drivers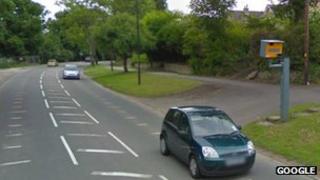 A single speed camera was responsible for catching almost half the known speeding motorists in Gloucestershire.
Figures obtained through a Freedom of Information (FOI) request reveal a camera on the A4135 at Kingshill, Dursley caught 690 drivers last year.
A total of 1,396 tickets were issued in the county via fixed speed cameras.
Gloucestershire Police said the site, in a 30mph zone, tends to be in operation for "longer periods" because it is near a school.
The county council said five cameras, which are moved between 22 "operational sites", were currently in use in the county.
'Set on fire'
A camera on the A48 at Alvington caught 424 speeding drivers, the figures show.
The rest of the cameras caught about 40 people each year.
Insp Jason Keates from from Gloucestershire Police said: "You've got [Rednock School] there, so that tends to have a camera in for a longer period.
"But there's also the possibility that a couple of years ago it was set fire to, so people have probably got used to the fact that it hasn't been switched on and they still believe that it's not on."
Gloucestershire County Council said no money raised through fines was paid directly to the authority.
It said fines were "paid centrally to HM Courts & Tribunals Service (HMCTS) for onward transmission to the Exchequer".