Supervised methadone use reconsidered after toddler death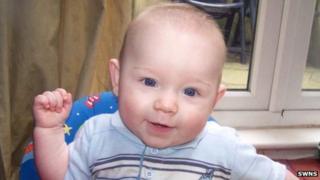 Changes to the way parents taking prescribed methadone are supervised are being considered following the death of a Bristol toddler given the heroin substitute by his father.
Jayden-Lee Green's father was allowed to take methadone home while his mother was supervised six days a week.
NHS Bristol is considering supervised consumption every day of the week.
Safer Bristol said parents were currently considered for treatment separately but this could also change.
A serious case review into the manslaughter of 23-month-old Jayden-Lee found that his death could only have been prevented if he had been taken into care.
But it made recommendations to all agencies involved with him and his family.
'Aware of dangers'
The review said that if methadone was only available to parents of young children through supervised consumption, the risk of ingestion by youngsters would be significantly reduced.
Jayden-Lee's mother, Sonia Britton, said herself that supervised consumption should be available seven days a week, when interviewed as part of the review.
Lindsey Scott, director of nursing at NHS Bristol, said they were "actively exploring" seven-day supervision.
But added: "The key thing is to strengthen education of parents in terms of information given to them so they're aware of the dangers when they're first put on methadone."
The review also stated: "It seems obvious that if supervised consumption is required for one parent in a family the same should apply to all household members."
It added: "It is important that practitioners acknowledge... there are occasions when parents deliberately administer drugs, including methadone, to their children."
Sue Bandcroft, substance misuse manager at Safer Bristol, said it was not known whose methadone had been given to Jayden-Lee, or even if it was prescribed, as his parents were also taking other drugs.
She said current practice was to work with individual drug users, and being able to take methadone home was a "reward" for making progress in their treatment.
GP programme
But Ms Bandcroft added: "If there's a couple living under the same roof who've got childcare responsibilities, if one is having supervision we should look at whether both should.
"That's one thing we're looking at putting in place. It currently varies across the country.
"The big difference in Bristol is we've got a widespread GP programme for providing methadone. Lots of people [elsewhere] can only use specialist services.
"Communication is even more difficult if couples have different GPs or the caring role changes."
The review recommends one drug service for dependant drug-using parents.
Jayden-Lee was found dead at home in August 2011.
The toddler's father Jamie Green, 33, was found guilty of manslaughter and cruelty following a trial at Bristol Crown Court and jailed for nine years.
Sonia Britton, 35, was convicted of causing or allowing the death of a child and cruelty to a person under 16, and jailed for four years.