Lawrence Weston residents want 'tired' area regenerated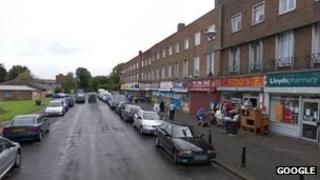 A group is calling for a "tired" area of Bristol to be regenerated with the help of a new supermarket.
Residents of Lawrence Weston also want new community buildings at the former City of Bristol College site.
The main shopping area currently offers mostly "fast food outlets", according to local residents' association chairman Mark Pepper.
Bristol City Council planning chairman Anthony Negus agreed the area was in need of a "refresh".
"I've banged on lots of doors and spoken to lots of people in Lawrence Weston and I know the energy and the interest for people in their area," he said.
"What we've got to do is harness that energy and try and get behind, refresh and revitalise [the main shopping area] Ridingleaze.
"It's getting tired and there's no choice."
Mr Pepper said because of the poor state of transport links it was hard for people without cars to get to alternative shopping areas.
"And what with the poor transport infrastructure we've got in Lawrence Weston, the chances of the elderly folk and young mums with babies leaving the area is quite slim," he said.
Helen Bone, who runs a local planning group, said the addition of a new supermarket could "transform" the area after the loss of the local college and a local school.
"It could really kick-start the regeneration of the area because it will bring money in terms of other community investment," she said.
"We've lost a school, we've lost a college and what we need to make sure is that as well as a supermarket we have a new community building."