Bristol toddler methadone death 'preventable'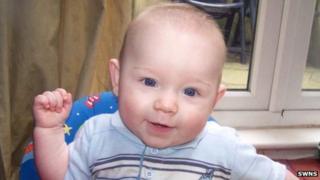 The death of a toddler from a methadone overdose could only have been prevented if he had been taken into care, a serious case review has found.
Jayden-Lee Green, aged 23 months, was found dead at home in Bristol, in August 2011, after his father gave him the heroin substitute.
The review said professionals involved in his care missed opportunities to understand what was going on.
The Bristol Safeguarding Children Board said it accepted the recommendations.
The review also drew parallels between the case of Jayden-Lee and a 14-month-old child who died of morphine and methadone intoxication in Bristol in 2007.
It stated that not all lessons learned from the previous case had been put into practice.
'Misplaced optimism'
The review said that in Jayden-Lee's case, the only way his death would definitely have been prevented was if he had been placed away from his parents.
"The opportunity to do this was lost due to the failure to follow through on the initiation of care proceedings," the report said.
"A better planned and authoritative approach to the family may also have prevented his death."
Annie Hudson, strategic director for children and young people's services at the city council, agreed that the initiation of care proceedings had "stuttered".
But she said that even if proceedings had gone ahead it would not necessarily have meant Jayden-Lee going into care.
She said the review had flagged up "misplaced optimism" in the parents' co-operation with agencies, and that practitioners needed support to "dig down" and get a stronger sense of what life is like for drug-misusing families.
The toddler's father Jamie Green, 33, was found guilty of manslaughter and cruelty following a trial at Bristol Crown Court and jailed for nine years.
His partner Sonia Britton, 35, was convicted of causing or allowing the death of a child and cruelty to a person under 16, and jailed for four years.
'Disastrous consequences'
They were taking crack cocaine and heroin throughout 2011 despite having been prescribed methadone.
Dr Ray Jones, chairman of the Bristol Safeguarding Children Board, said there had been increasing concern about the lifestyle of Jayden-Lee's parents.
"They had a history of drug misuse and also, unfortunately, a history of being devious and manipulative in terms of their engagement with agencies," he said.
There were concerns about their co-operation with the child protection plan put in place after Jayden-Lee's birth and evidence they falsified urine tests.
The review said none of the professionals involved with Jayden-Lee's family had foreseen the possibility of him being given methadone by either parent.
Dr Jones said: "We want to drive home the message that giving methadone to children is dangerous, with potentially disastrous consequences, as in this case, which resulted in Jayden-Lee Green's death and his parents both serving prison sentences."
Dr Jones said there were differences to the 2007 case in that it was not known if the other child had been given methadone deliberately.
But he said lessons were not learned on one occasion and needed to be "repeated, repeated and repeated".
He said the only way of knowing if a child is being given methadone as a sedative was to test them, and that was an issue for national policy.