Andrew Chesterman funeral in Bristol after Afghanistan death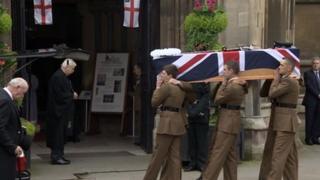 The funeral of a soldier shot dead by insurgents while he led a patrol in Afghanistan has taken place.
Lt Andrew Chesterman, 26, of 3rd Battalion The Rifles, died on 9 August after a vehicle in his group was hit by a roadside bomb.
Lt Chesterman, from Bristol, was commanding the patrol in Nad-e Ali district, Helmand province, and was shot in the aftermath of the bombing.
His funeral was held at Bristol Cathedral.
The soldier lived in the Stoke Bishop area of the city and was born in Guildford, Surrey.
Lt Chesterman studied mechanical engineering at the University of Southampton before attending the Britannia Royal Naval College and the Royal Military Academy Sandhurst.
In June, he was asked to form a police advisory team working with 1st Battalion Welsh Guards Battle Group to improve the mentoring of the Afghan National Police.
He had been deployed in Afghanistan since April.
Lt Chesterman's father Paul said the family had lost a "fine young man".
Mr Chesterman said the family, including the soldier's sisters Anna and Olivia, were "immensely proud" of him.
Dozens of people stopped and stood in silence to pay their respects outside the cathedral ahead of the service.