Weston sand sculptor wins silver medal in European contest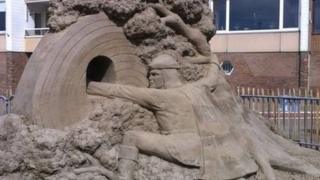 The organiser of the Weston Sand Sculpture Festival has won a silver medal at the European Championships of Sand Sculpting.
Nicola Wood had been uncertain whether she would make the Netherlands competition after sculptures at the festival were damaged by vandals.
But after sculptors from Europe were flown in to help repair the damage, Ms Wood was able to attend the event.
She said she was "overwhelmed" when her Robin Hood-themed entry came second.
The theme of the Zandvoort-based competition this year was "Legends and Sagas from your home country".
Due to the vandalism in Weston, Ms Wood was two days late to the event.
She said: "I was concentrating so much on catching up that I never considered actually winning a prize.
"I am so happy, especially after the sad news at the exhibition back home in Weston."
Special tribute
A North Somerset Council spokesman said the authority was planning a special tribute event to honour her silver medal achievement.
The Weston Sand Sculpture Festival is scheduled to close on 9 September, but organisers hope to extend the exhibition until the end of September.
Several of the statues, including one of the Queen, were beheaded by vandals on 22 August.
Sculptors from the Netherlands and Israel flew in to help repair the damage.
Police are investigating the damage and said a reward would be offered for information leading to the culprits.