Keynsham town centre £34m development plans on hold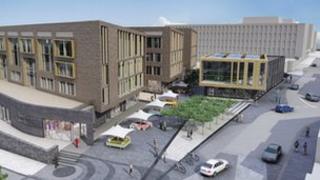 A decision over the £34m regeneration of Keynsham town centre has been postponed by councillors.
Bath and North East Somerset council wants to demolish and rebuild the library and town hall buildings.
But there have been concerns over the design of the buildings from English Heritage and the local civic society.
The planning committee has now deferred a decision until significant alterations are made to the roofing and cladding of the proposed buildings.
The work in Keynsham had been due to start in August with Wilmott Dixon Construction chosen to carry out the design, demolition and construction.
A Bath and North East Somerset Council spokesman said it was determined to deliver the scheme for Keynsham and would "urgently" consider the findings of the Development Control Committee.
"[This] will bring new jobs, greater prosperity, and an improved look and feel to the town," he said.
"The revamp of the centre is one part of our overall plans for the town which include the redevelopment of Somerdale [the former Cadbury's chocolate site] and the Riverside building which the council will vacate.
"A vastly improved town centre will encourage private sector investment into Keynsham resulting in new jobs, new homes and opportunities for local people."