See No Evil: Street art festival returns to Bristol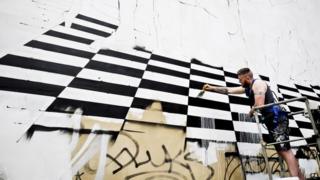 Street artists from around the world are in Bristol city centre to take part in what is claimed to be the UK's largest permanent street art project.
Nelson Street is being transformed with graffiti during the second year of the See No Evil urban art exhibition.
Last year projectors were brought in to help artists create graffiti on buildings up to 10 storeys high.
The artists will paint buildings with the help of floodlights on Tuesday night.
They are being curated by Bristol painter and street artist Inkie and the event has the support of the Arts Council, London 2012 Festival and Bristol City Council.
Some Conservative councillors said they thought the exhibition was a waste of money were unhappy the Liberal Democrat-run council had contributed towards funding it.
'Most positive'
But Lynne Tonks, who runs a catering business in the area, said it was "the best thing that they ever did in this street".
"They've increased the foot flow, the crime has definitely gone down, it's been the most positive thing," she said.
She said more tourists were attracted to the area, fewer bikes were being stolen and there had been less vandalism and "bad graffiti".
"It's a pleasanter environment to work in and for people to come to," Ms Tonks said.
"When people are asking where we are when they're applying for jobs we say we're on Graffiti Street.
"Graffiti is something that Bristol should be proud of. Banksy's put it on the map and other people are following - and it looks great."
See No Evil, which started on Monday and runs until Sunday, is part of the London 2012 Festival - a summer-long arts festival throughout the country to celebrate the London 2012 Olympic and Paralympic Games.