Bristol ambulance waiting fines 'shocking'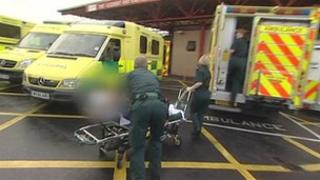 The total cost of fines given to hospitals in the Bristol area for keeping ambulances waiting outside is "shocking", an MP has said.
Steve Webb, Liberal Democrat MP for Thornbury and Yate, said crews have queued at hospitals for an estimated 8,000 hours in the past six months.
Fines, charged by the NHS, are believed to have exceeded £1m in the past year.
A North Bristol NHS Trust spokesman said improving ambulance handover times was a "high priority for the trust".
Mr Webb said the daily figure charged to hospitals of more than £2,700 was unacceptable, particularly when patients were left waiting for emergency care.
'Waiting too long'
The MP said he recently visited Great Western Ambulance Service control centre in Almondsbury to discuss ambulance response times.
"I think it's pretty shocking that we're in a situation where one part of the NHS has to pay fines to another part of the NHS because ambulances are waiting too long to get into casualty departments," he said.
"I want to see the local hospitals take this issue much more urgently so that instead of paying fines, what they do is put their effort into getting people through casualty departments, people being treated more promptly, and then the ambulances can get back out on the road."
In a statement, a spokesman for the North Bristol NHS Trust said it had introduced a "dedicated ambulance liaison nurse" and "computer handover screens" to help improve information on ambulances and casualties on route to the hospital.
It went on say the ambulance bay outside the department was also due to be altered later in the year to increase capacity.
"We fully recognise the importance of keeping ambulances on the road and reducing the amount of time they have to spend at hospitals," said Dr Chris Burton, the trust's medical director.
"We acknowledge that ambulance handover times at Frenchay need improving and we are absolutely committed to achieving this."