'River of black ooze' is marring Bristol woodland, resident claims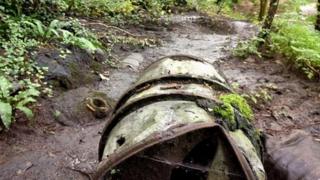 Barrels of tar or oil dumped in Bristol woodlands decades ago can not be removed as the land's owner can not be traced, the council has confirmed.
The metal barrels are thought to have been dumped in Nightingale Valley in Brislington at the end of World War II.
One resident said the rusted drums had created a "river of black ooze" and should be removed.
But Bristol City Council said there was "no evidence of contamination" and it had "no way of contacting the owner".
'Tipped down hill'
Nightingale Valley is a small wooded valley in the Brislington area of the city, following part of the course of a brook.
"It's along the Brislington Brook where all the barrels and the tar have been tipped down the side of the hill," said resident Darren Joslin.
"There must be 50 odd barrels and they've rusted away and ruptured over the years and it's all gradually oozed out to make a river coming down the hill.
"It's black and nasty and nothing grows through it and it's inches and inches thick in some places where it's running down towards the stream."
Andy Grant, of the Friends of Nightingale Valley, said the land hid a lot more barrels "that you can't see".
"There's a lot more under the surface - probably twice as many again," he said.
A Bristol City Council spokeswoman said the authority had been aware of the situation and been monitoring it for "many years".
"The drums are empty and there is no evidence of any contamination of the area or localised oil pollution and no adverse environmental impact," she said.
"We will continue with our monitoring and will, if there has been any change to the situation seek advice from the appropriate authorities."
But the authority also confirmed that the land was "privately owned, but not registered" and the council "had no way of contacting the owner".