Bristol approves city-wide 20mph limit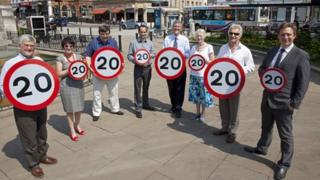 Plans to introduce a 20mph speed limit in most residential streets in Bristol over the next three years have been approved.
The Liberal Democrat-run council said about 89% of those surveyed in pilot areas approved of 20mph zones.
The council said the speed limit would make the roads less dangerous and encourage walking and cycling.
The estimated cost of city-wide rollout is £2.3m and will be funded by local transport budgets.
The idea to introduce the 20mph limit on most roads was originally proposed in 2010.
But police have already said enforcing the scheme will be extremely challenging.
The council said communities would be consulted on the plans for their neighbourhoods.
Pilots are already running in parts of the city.