Bath Abbey submits plans for hot springs heat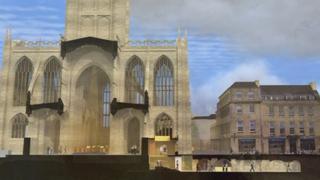 Bath Abbey has submitted plans to tap into the city's hot springs for a new eco-friendly heating system.
The scheme forms part of phase one of a wider £18m revamp of the abbey.
Also, the application includes plans to open up hundreds of metres of additional floor space at vault-level and upgrade some buildings nearby.
The revamp will create a new choir school, meeting and learning spaces and a new entrance to the building.
It is hoped that the Footprint project, as it has been called, will help ease the strain on the Abbey's medieval fabric.